Renaissance: New Series of Short Films Created By 22 European Theatres, Including the Ones From the Czech Republic, Slovakia, Hungary, Ukraine, Albania, Slovenia, Croatia and Serbia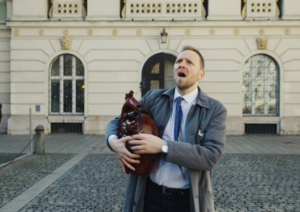 Twenty-two ETC theatres, from 18 European countries, have drawn on philosophy, fantasy, and the strain of living under a pandemic to produce an original series of short drama films that will be available to watch at home for free from 9 May 2021.
Renaissance, a project coordinated by the European Theatre Convention, sees 22 theatres from 18 European countries, including the National Theatre Prague, Slovak National Theatre, Pesti Magyar Színhás from Hungary as well as theatres from Ukraine, Albania, Slovenia, Croatia, Serbia and elsewhere, each write and produce a five-minute short film that responds to the dramatic prompt of 'Renaissance'.
The Renaissance was an explosion of creativity after the 'dark and diseased' Middle Ages—a complex and uneven celebration of beauty, wisdom, science, and architecture. It was time of dramatic changes, of upheavals, of brutal ruptures with societal patterns. It was also a time that led to a shift in European thought and introduced a new Zeitgeist.
Here, 'Renaissance' also stands for the rebirth of theatre(s) in the virtual space after a year of living with the pandemic. The participating European theatres have tested and unveiled new texts and formats, devising work for the digital stage, and developing digital dramaturgies.
Speaking about Renaissance, ETC Executive Director Heidi Wiley said: "We're so proud to be able to present the short films from our member theatres, who have produced thoughtful, beautiful and challenging films with a wide variety of styles and artistic influences. We hope you enjoy the journey and join us as we witness the Renaissance of theatres together!"
Renaissance is coordinated by the ETC – European Theatre Convention. As the largest network of public theatres in Europe, the ETC has 44 European Members from over 25 countries, reflecting the diversity of Europe's vibrant cultural sector. Founded in 1988, the ETC promotes European theatre as a vital platform for dialogue, democracy and interaction that responds to, reflects and engages with today's diverse audiences and changing societies.
ALL videos will be available to watch for a limited time on the ETC website, from 00:00 until 23:59 CET on Sunday 9 May (Europe Day). After this date, one video will be released each week day from Monday 10 May to Friday 4 June. They will be available to view from their release date onwards on the ETC website, the theatre website, and on social media.
See the full release calendar with release dates for each participating theatre here.
For more information visit the website of the project.