CELEBRATING THE 100TH ANNIVERSARY OF SLOVAK THEATRE IN THE VIRTUAL WORLD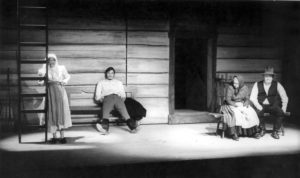 The Slovak National Theatre opened its doors in March 1920, so in 2020 we commemorate a unique jubilee: the 100th anniversary of its founding. An important milestone in the history of theatre, national culture and cultural identity, it can also be considered a milestone of national significance. The establishment of its first professional theatre ushered in a new era in the history of theatre in Slovakia.
Another key date for Slovak theatre is 22 August 1830, when Ján Chalupka's comedy Kocúrkovo debuted in the town of Liptovský Mikuláš. At the centre of this event was its organiser, Gašpar Féjerpataky-Belopotocký – an enlightened innovator and national revivalist, who strongly advocated for the development of Slovak culture. Thus, 2020 also marks the 190th anniversary of the first amateur theatre production in Slovakia. Amateur theatre played a fundamental role in the founding of the Slovak nation and simultaneously laid the groundwork for the establishment of the country's professional theatre.